DESCRIPTION:
ER Series provide small air users with a quiet continuous duty air compressor designed to last. Integrated design, durable construction and simple reliable operation make ER Series compressors ideal for small enterprises, craftsmen and workshops desiring quiet operation, superior performance and great value.
 100 Series: 2 HP through 3 HP
100 Series are compact integrated air compressors characterized by their complete motor-compressor integration and by the absence of a radiator, which is replaced by a specially finned oil-cooling chamber. Simple and reliable, 100 Series is designed for continuous service, with activate-and-deactivate pressure-switches for start/stop operation.  Available in 230v/1Ph/60Hz and 230,460v/3Ph/60Hz.
 400 Series offers small shops an economical alternative with the same extraordinary reliability & performance you get from all Mattei air compressors. These compact air compressors deliver quiet performance and great value with the absence of an aftercooler, and feature sleek in-line construction, simple controls, dependable operation and low maintenance. Includes modulation and automatic start/stop controls as standard. Available in 230,460v/3Ph/60Hz.
 ER Series is friendly to your wallet and the environment. Each unit holds very little lubricant (typically less than half that of a screw type compressor) which saves you a small fortune on oil changes and disposal costs. The oil filter is cleanable – yes, cleanable. The highly efficient mechanical air/oil separation chamber delivers high quality air to the air/oil separator filter thus, it sees very little lubricant and provides up to 10,000 hours of service, and low 1-3 ppm oil carryover.
 FILES & LITERATURE:
ER SERIES STANDARD FEATURES:
ADVANTAGES
Compact and innovative compressors designed for continuous service and quiet operation. Long-life and reliable operation make ER Series ideal for small enterprises, craftsmen and workshops.
LOW COST OF USE
Simple design and long-life components guarantees considerably reduced maintenance costs and excellent reliability.
MAINTENANCE
All components are easily accessible for fast easy maintenance. Maintenance operations only include changing the oil at predetermined intervals, cleaning or replacing the air filter and cleaning the radiator (400 Series). Benefit from low oil volume and long-life oil separating filters for significant savings over the life of the machine.
CONTROLS
 100 Series: The simple and functional control panel includes: a start and stop switch, a safety thermostat for motor overloads and for high oil temperature and a gauge.
400 Series: The control panel is simple and practical and includes an hour counter, a start-up button and an emergency button, a safety automatic stop.
 DIRECT COUPLING
400 Series uses a flexible coupling between motor and compressor without any need for belts. It is without gears or roller bearings needing maintenance.
LUBRICANT
Benefit from our long-life all synthetic Rotoroil 8000 F2 lubricant.
Share this item
View full details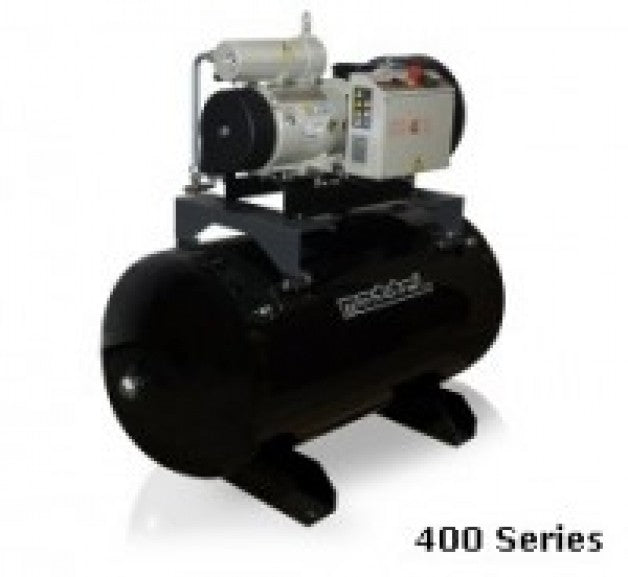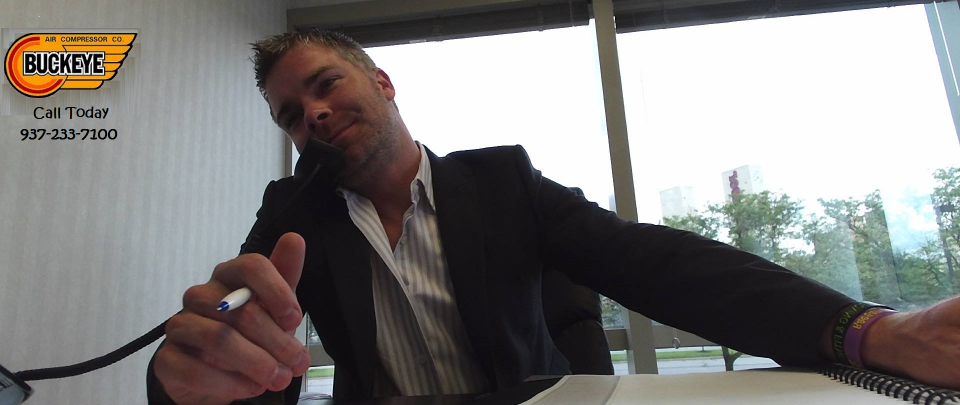 Need additional help?
Speak with John or someone directly from our team to help you find exactly what you are looking for. We want to make your experience with Buckeye Air Compressor exceptional and worth your time!
Returns

It's easy to return an item if you're not satisfied. We will issue a refund to your original form of payment, issue a credit or equal exchange for items returned within 14 days. Click the link below to read more information about our return policy.

Full Return Policy

Our Value

Buckeye Air specializes in Compressed Air Systems for Industries, Businesses, and Individuals. We provide Quality Equipment for businesses that demand the Best. Our Company represents some of the finest Compressed Air Equipment manufactured in the world today.